Product News
MTL4521 barrier! Good news MTL4521,MTL4521,MTL4521 isolator in stock.

November 22, 2019
Good quality barriers, MTL4500 range MTL4521 isolated barrier in stock for you.
More product details for your reference for MTL4521 barrier as below.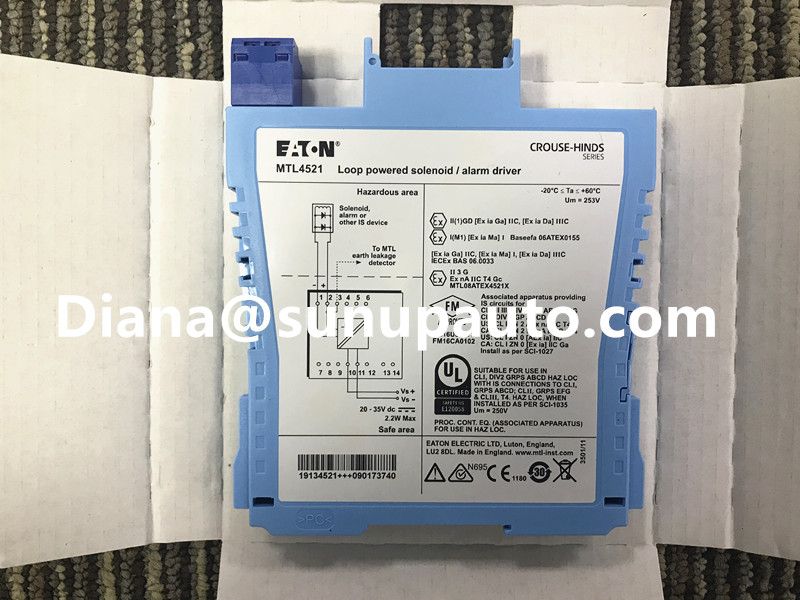 We're reliable supplier for MTL all series barriers and isolator products include MTL4500, MTL5500,MTL7700 range, MTL4600 rang, MTL1000 range, MTL SD modular range, MTL SD range, MTL2000 range, MTL3000 series, MTL4000 series, MTL4700 series, MTL5000 range, MTL700 range,MTL7000 range......
Here below is a summary of all series barriers isolators and surge protector for your reference.
MTL1000 range
Product Code Description
INM1000 MTL1000 range - Instruction Manual
MTL1000 MTL1000 range - Common Specifications
MTL1141 1ch 2/3/4 wire transmitters
MTL1142 1 ch + smart 2 wire + 3/4 wire transmitters
MTL1143 1ch + smart 2 wire + 3/4 wire transmitters + Repeat output
MTL1144 Voltage/current input isolator Datasheet
MTL1145 Loop powered current repeater Datasheet
MTL1171 Thermocouple Input Converter Datasheet
MTL1172 Resistance Temperature Device Input Converter
MTL1173 Potentiometer Input Converter
MTL1211 Switch / Proximity Detector with Line Fault Detection
MTL1249 Signal Converter - Voltage / Current
MTL1271 Loop powered thermocouple converter
MTL1272 Resistance Temperature Device Input Converter
MTL1321 new Signal converter and Trip Amplifier
MTL1341 new Transmitter repeater and Trip Amplifier
MTL1371 new Thermocouple input converter and Trip Amplifier
MTL1372 new RTD device input converter and Trip Amplifier
MTL1373 new Potentiometer input converter & Trip Amplifier
MTL1991 Power Feed and Alarm Module
MTL2000 series
Product Code Description
MTL2210B Switch operated relay ~ 1-channel
MTL2211 Switch operated relay ~ 2-channel
MTL2213 Switch/proximity detector relay ~ 3-channel
MTL2215 Switch operated relay ~ IS output
MTL2220 Earth-leakage detector
MTL2241 Solenoid/alarm driver ~ 1-channel
MTL2242 Solenoid/alarm driver ~ 4-channel
MTL2313 Trip amplifier ~ general purpose
MTL2314 THC trip amplifier
MTL2315 RTD trip amplifier
MTL2316 Bonding integrity monitor
MTL2441B 4/20mA Repeater power supply
MTL2442B 4/20mA Isolating driver
MTL3000 series
Product Code Description
MTL3011 Switch/proximity detector relay - volt-free contacts
MTL3012 Switch/proximity detector relay - solid state
MTL3013 Switch/proximity detector relay - 2-channel
MTL3014 Switch/proximity detector relay - dual outputs
MTL3021_22 Solenoid/alarm driver ~ IIC loop powered
MTL3041 Repeater power supply - 4/20mA for 2-wire transmitters
MTL3042 DC isolator - 4/20mA loop powered for I/P converters
MTL3043 DC isolator - 1/40mA for fire and smoke detctors
MTL3045 Isolating driver - 4/20mA for I/P converters
MTL3046B Repeater power supply - for 'smart' transmitters
MTL3052 Digital isolator - for signals up to 10kHz
MTL3054 Communications isolator/ repeater
MTL3058_59 Serial data interface ~ RS232 general purpose
MTL3071 Temperature converter ~ THC or emf input
MTL3072 Temperature converter ~ 3-wire RTD input
MTL3073 Temperature converter ~ THC or RTD input
MTL3081 Millivolt isolator - for low-level inputs
MTL3099 Dummy isolator - for terminating and isolating unused cores
MTL3992 High stability power supply
MTL4000 series
Product Code Description
1. Analogue Input
MTL4041A Current repeater
MTL4041B Repeater power supply
MTL4041P High-power repeater power supply
MTL4041T Repeater power supply
MTL4042 Repeater power supply IIB
MTL4043 Repeater power supply HART
MTL4044 Repeater power supply
MTL4044D Repeater power supply
MTL4048 Loop powered isolator
2. Analogue Output
MTL4045B_C Isolating driver
MTL4046P High-power isolating driver HART
MTL4046S Isolating driver HART
MTL4046_C Isolating driver HART
3. Digital Input
MTL4013 Switch/proximity detector interface
MTL4014 Switch/proximity detector interface
MTL4015 Switch/proximity detector interface ~United Electric series
MTL4016 Switch/proximity detector interface
MTL4017 Switch/proximity detector interface
MTL4113P Failsafe switch/proximity detector interface
4. Digital Output
MTL4021 Solenoid/alarm driver
MTL4021S Solenoid/alarm driver
MTL4023 Solenoid/alarm driver
MTL4024 Solenoid/alarm driver
MTL4025 Solenoid/alarm driver
MTL4215 Switch operated relay
MTL4216 Switch operated relay
5. Temperature Input
MTL4073 Temperature converter
MTL4081 Millivolt/thermocouple isolator
MTL4083 Voltage isolator
6. General
MTL4031 Vibration transducer interface
MTL4032 Pulse isolator
MTL4061 Fire and smoke detector interface
MTL4099 Dummy isolator
MTL4099N General purpose feed-through module
MTL4220 Earth leakage detector
MTL4403 High-level trip amplifier
MTL4421RS General purpose switch operated relay
Digital Input modules
MTL4501-SR, MTL4504, MTL4510, MTL4510B, MTL4511, MTL4513, MTL4514, MTL4514B, MTL4516,
MTL4516C, MTL4517
Digital Output modules
MTL4521, MTL4521L, MTL4523, MTL4523L, MTL4523R, MTL4523V, MTL4523VL, MTL4524,
MTL4524S, MTL4525, MTL4526
Pulse and Vibration modules
MTL4531, MTL4532, MTL4533
Analogue Input modules
MTL4541, MTL4541A, MTL4541AS, MTL4541B, MTL4541P, MTL4541S, MTL4544, MTL4544A,
MTL4544AS, MTL4544B, MTL4544D, MTL4544S
Analogue Output modules
MTL4546, MTL4546C, MTL4546Y, MTL4549, MTL4549C, MTL4549Y
Fire and Smoke Interface modules
MTL4561
Temperature Input modules
MTL4575, MTL4576-RTD, MTL4576-THC, MTL4581
General modules
MTL4599, MTL4599N
PCS45/PCL45USB configurator for MTL temperature converters
MTL4600 range
Product Code Description
Digital Input
MTL4604 1ch DI relay output + LFD alarm + phase reversal
MTL4610 4ch DI solid-state output
MTL4611 1ch DI relay output
MTL4614 1ch DI relay output + LFD alarm
MTL4614D 1ch DI switch/prox input, dual output relay
MTL4616 2ch DI relay output Datasheet
MTL4617 2ch DI relay output + LFD alarm
MTL4619H 110Vac/125Vdc digital input
MTL4619L 24V/48V digital input
Digital Output
MTL4621 Loop powered solenoid driver
MTL4623 Solenoid driver with LFD
MTL4623L Loop powered solenoid driver + LFD
MTL4623R Solenoid driver with reverse LFD
MTL4624 Switch operated solenoid driver
MTL4624S Switch operated solenoid driver, 24V override
MTL4626 2ch switch operated relay
MTL4627 24Vdc 250mA digital output
MTL4628 relay output
Analogue Input
MTL4641 1ch 2/3 wire Transmitter repeater
MTL4641A 1ch Transmitter repeater, passive input
MTL4641AS 1ch Transmitter repeater, passive input, current sink
MTL4641S 1ch 2/3 wire Transmitter repeater, current sink
MTL4644 2ch 2/3 wire Transmitter repeater
MTL4644A 2ch Transmitter repeater, passive input
MTL4644AS 2ch Transmitter repeater, passive input, current sink
MTL4644D 2/3 wire transmitter repeater, dual output
MTL4644S 2ch 2/3 transmitter repeater, current sink
Analogue Output
MTL4646 1ch 4-20mA smart isolating driver + LFD
MTL4646Y 1ch 4-20mA smart isolating driver + oc LFD
MTL4649 2ch 4-20mA smart isolating driver + LFD
MTL4649Y 2ch 4-20mA smart isolating driver + oc LFD
Temperature Input
MTL4675 1ch Temperature converter with alarm
MTL4676-RTD 2ch Temperature converter, RTD
MTL4676-THC 2ch Temperature converter, THC
Pulse Input
MTL4632 1ch pulse isolator, digital or analogue output
MTL4700 series
Product Code Description
MTL4700 MTL4700 Series Common Specification
MTL4706+ 2ch - 2-wire 4/20mA & smart Tx
MTL4715+ 4ch - 12V DC applications
MTL4722+ 4ch - 18V DC applications
MTL4728– 4ch - negative & floating supplies
MTL4728+ 4ch - digital or 4/20mA outputs
MTL4755ac 3ch - 3-wire RTD applications
MTL4760ac 2x2ch - two thermocouples/AC sensors/4-wire RTD
MTL4763Pac 3x2ch - strain-gauge bridges
MTL4778ac 2x2ch - 2-wire DC & AC systems
MTL4781+ 4ch+1 - 4 switches + 1 supply
MTL4787+ 2x2ch - multi-purpose inputs/outputs
MTL4787P+ 2x2ch - hi-power multi-purpose inputs/outputs
MTL4788+ 2x2ch - 4/20mA Tx
MTL4788R+ 2x2ch - 4/20mA Tx + voltage output
MTL4796– 2x2ch - vibration probes
MTL4799 Dummy barrier
MTL5000 range
Product Code Description
Analogue Input
MTL5040 Loop isolator
MTL5041 Repeater power supply
MTL5042 Repeater power supply
MTL5043 Repeater power supply
MTL5044 Repeater power supply
Digital Input
MTL5018AC Switch/proximity detector interface
Analogue Output
MTL5045 Isolating driver
MTL5046 Isolating driver
MTL5049 Isolating driver
Digital Input
MTL5011B Switch/proximity detector interface
MTL5012 Switch/proximity detector interface
MTL5012S Switch/proximity detector interface - United Electric series
MTL5014 Switch/proximity detector interface
MTL5015 Switch/proximity detector interface
MTL5017 Switch/proximity detector interface
MTL5018 Switch/proximity detector interface
MTL5113P Failsafe switch/proximity detector interface
Digital Output
MTL5021 Solenoid/alarm driver
MTL5022 Solenoid/alarm driver
MTL5023 Solenoid/alarm driver
MTL5024 Solenoid/alarm driver
MTL5025 Solenoid/alarm driver
Temperature Input
MTL5074 Temperature converter
MTL5081 Millivolt/thermocouple isolator
MTL5082 Resistance isolator
General
MTL5031 Vibration transducer interface
MTL5032 Pulse isolator
MTL5061 Fire/smoke detector interface
MTL5099 Dummy isolator
MTL5344 Repeater power supply
MTL5349 Isolating Driver
General
MTL5053 MTL5053 is intrinsically safe Isolator/ power supply
MTL5500 Series Barriers
Part Number
MTL5501-SR, MTL5510, MTL5510B, MTL5511, MTL5513, MTL5514, MTL5514D, MTL5516C, MTL5517, MTL5521, MTL5522, MTL5523, MTL5523V, MTL5523VL, MTL5524, MTL5525, MTL5526, MTL5531, MTL5532, MTL5533, MTL5541, MTL5541A, MTL5541AS, MTL5541S, MTL5544, MTL5544A, MTL5544AS, MTL5544D, MTL5544S, MTL5546, MTL5546Y, MTL5549, MTL5549Y, MTL5561, MTL5575, MTL5576-RTD, MTL5576-THC, MTL5581, MTL5582
MTL7000 series
SINGLE CHANNEL +VE
7122+ 7028+ 7128+ 7128P+ 7129P+
SINGLE CHANNEL –VE
7028– 7128–
DOUBLE CHANNEL +VE
7162+ 7164+ 7167+
DOUBLE CHANNEL (NON-SYMMETRICAL) –VE
7096- 7196–
RETURN-DIODE TYPE
7087+ 7187+ 7087P+ 7187P+
SIMPLE AC, LOW LEVEL
7055ac 7056ac
SIMPLE AC, HIGHER VOLTAGE
7261ac 7061Pac 7161Pac 7264ac 7066Pac 7166Pac
STAR-CONNECTED AC2
7060ac 7160ac 7265ac 7278ac
ACTIVE BARRIERS
7106 7206 7207+ 7208+
DUMMY BARRIERS
7099 7299
MTL7700 range Safe barrier,barriers,isolators,safe DIN rail barriers,safety barrier
MTL7706+
MTL7707+
MTL7707P+
MTL7710+
MTL7715+
MTL7715P+
MTL7722+
MTL7728+
MTL7728-
MTL7728AC
MTL7728P+
MTL7729P+
MTL7741
MTL7742
MTL7743
MTL7744
MTL7745
MTL7755AC
MTL7756AC
MTL7758-
MTL7758+
MTL7760AC
MTL7761AC
MTL7761PAC
MTL7764+
MTL7764AC
MTL7765AC
MTL7766AC
MTL7766PAC
MTL7767+
MTL7778AC
MTL7779+
MTL7787+
MTL7787-
MTL7787P+
MTL7788+
MTL7788R+
MTL7789+
MTL7796-
MTL7796+
MTL7798
MTL7799
MTL705+
MTL706+
MTL707+
MTL707P+
MTL708+
MTL710+
MTL710AC
MTL710P+
MTL715+
MTL715P+
MTL722+
MTL722P+
MTL728+
MTL728AC
MTL728P+
MTL729P+
MTL751AC
MTL755AC
MTL758+
MTL760AC
MTL761AC
MTL761PAC
MTL764+
MTL764AC
MTL765AC
MTL766AC
MTL766PAC
MTL767+
MTL768+
MTL772AC
MTL778AC
MTL779+
MTL786+
MTL787+
MTL787S+
MTL787SP+
MTL788+
MTL788R+
MTL791
MTL796+
MTL799