MTL SUM5TM Smart Universal Marshalling MTL4-ADIO-50 Universal analogue/digital interface module.
The MTL4 -ADIO can be configured for input and output applications with a wide selection of signal types and ranges. It is the perfect choice when
used with universal IO system cards where the IO type is assigned on a channel by channel basis.
Configuration is carried out using the mode selection switch on the module or using the MTL4 -PCS configuration tool via the MTL4 -PCL USB link.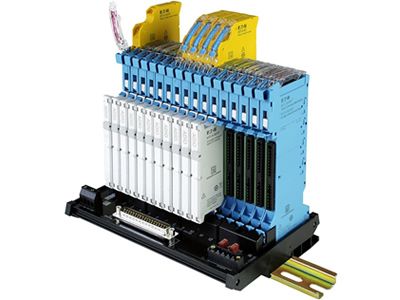 Interface modules
MTL4 -ADIO Universal analogue/digital interface module
MTL4-ADIO-50 Universal analogue/digital interface module (Pk 50)
MTL4 -BYP* Bypass module
MTL4 -BYP-50* Bypass module (Pack 50)
MTL4 -TI* Temperature converter module
MTL4 -TI-50* Temperature converter module (Pack 50)
Carriers with terminal bases
MTL4 -CS16IS 16ch universal IS carrier, screw terminals, 16 x MTL4 -BSIS fitted
MTL4 -CS16GP* 16ch universal GP carrier, screw terminals, 16 x MTL4 -BSGP fitted
Carrier only
MTL4 -CS16 16ch carrier, no interface bases fitted, screw terminals
Terminal bases
MTL4 -BSIS Terminal base IS
MTL4 -BSISR* Terminal base IS relay
MTL4 -BSGP* Terminal base GP
MTL4 -BSGPR* Terminal base GP relay
Surge modules
MTL4 -SD Plug-in surge module
MTL4 -SDR* Plug-in surge relay module
MTL4 -SDT* Plug in surge for temperature
Accessories
MTL4 -GND* Grounding module
MTL4 -LNKIS-50 IS power jumper link (Pack50)
MTL4 -TH-50 Spare UI tag holders (Pack 50)
MTL4 -ICC-50* Interface connector cover, for spare module bases (Pack 50)
MTL4 -PCS* Configuration software
MTL4-PCL* Configuration adaptor link
MTL4-SMK-10 Carrier surface mounting kit (Pack 10 pairs)