MTL Redundant Fieldbus Power Supplies MTL F810A is 8-segment redundant fieldbus power system with baseplate for Foxboro EVO™ Control System.
The F810A fieldbus power system is designed to provide redundant FOUNDATION™ fieldbus power for Foxboro EVO™ control systems using FBM228 modules. Eight fieldbus segments are supported. The system comprises a baseplate which accommodates two redundant pairs of Foxboro FBM228 modules and two MTL-Relcom F801 or F802 power modules operating in redundant configuration. Failure alarms, galvanic isolation, power
conditioning and segment termination are incorporated into each F80x module. In applications requiring simplex power, a single F80x module may be used.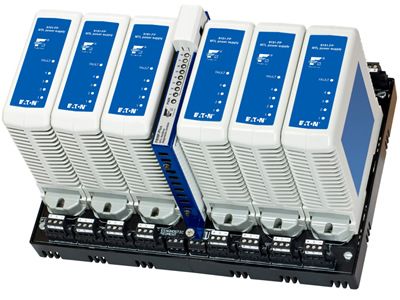 MTL Redundant Fieldbus Power Supplies
1. NEW 9180 Range - 8 segment with N+1 redundancy
9181 8 segment N+1 redundant fieldbus power supply For Invensys Foxboro I/A control system
9188 8 segment N+1 redundant fieldbus power supply For Yokogawa CENTUM CS3000 control system
9189 8 segment N+1 redundant fieldbus power supply, Universal
2. F800 Range - first generation 8 segment with 1+1 redundancy
F810A 8-segment redundant fieldbus power system with baseplate for Foxboro EVO™ Control System
F811 8-segment redundant fieldbus power system for Foxboro I/A Series Control System
F860 8-segment redundant fieldbus power IOTA specifically for use with Honeywell Experion "Series C"
F880 8-segment redundant fieldbus power for Yokogawa CENTUM 3000 R3 Control System - vertical DIN rail
F890 8-segment redundant fieldbus power supply for vertical DIN-rail mounting
F892 8-segment redundant fieldbus power supply for horizontal DIN-rail mounting
3. Classic F800 and FPS Range
F810 8-segment redundant fieldbus power system with baseplate for Foxboro I/A Series Control System
FPS-I Redundant fieldbus power supply/conditioner - single segment with 1+1 redundancy