MTL F880 is 8-segment redundant fieldbus power for Yokogawa CENTUM 3000 R3 Control System - vertical DIN rail.
The F880 fieldbus power system is designed to provide redundant power for eight Foundation™ fieldbus H1 segments when used with Yokogawa ALF111 fieldbus cards. The F880 module carrier has system connectors for direct connection to two redundant pairs of fieldbus cards using Yokogawa AKB336 cables.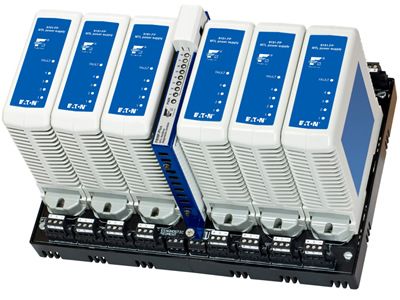 ORDERING INFORMATION
DESCRIPTION PART NO.
Carrier, unpopulated F880-CA-P*
Left hand carrier, unpopulated F880-CL-P*
Right hand carrier, unpopulated F880-CR-P*
8-segment power module: 21.5V, 350mA F801
8-segment power module: 28V, 500mA F802
Blanking modules included with -NR systems F800-BLK
Fieldbus diagnostic module F809F
with F801 with F802
F880-CA-P*and two F80x modules F880-P* F880-2-P*
F880-CL-P*and two F80x modules F880-L* F880-2-L*
F880-CR-P*and two F80x modules F880-R* F880-2-R*
F880-CA-P*and one F80x module F880-P*-NR F880-2-P*-NR
F880-CL-P*and one F80x module F880-L*-NR F880-2-L*-NR
F880-CR-P*and one F80x module F880-R*-NR F880-2-R*-NR
MTL Redundant Fieldbus Power Supplies
1. NEW 9180 Range - 8 segment with N+1 redundancy
9181 8 segment N+1 redundant fieldbus power supply For Invensys Foxboro I/A control system
9188 8 segment N+1 redundant fieldbus power supply For Yokogawa CENTUM CS3000 control system
9189 8 segment N+1 redundant fieldbus power supply, Universal
2. F800 Range - first generation 8 segment with 1+1 redundancy
F810A 8-segment redundant fieldbus power system with baseplate for Foxboro EVO™ Control System
F811 8-segment redundant fieldbus power system for Foxboro I/A Series Control System
F860 8-segment redundant fieldbus power IOTA specifically for use with Honeywell Experion "Series C"
F880 8-segment redundant fieldbus power for Yokogawa CENTUM 3000 R3 Control System - vertical DIN rail
F890 8-segment redundant fieldbus power supply for vertical DIN-rail mounting
F892 8-segment redundant fieldbus power supply for horizontal DIN-rail mounting
3. Classic F800 and FPS Range
F810 8-segment redundant fieldbus power system with baseplate for Foxboro I/A Series Control System
FPS-I Redundant fieldbus power supply/conditioner - single segment with 1+1 redundancy