Product News
Professional supplier for MTL831B range multiplexers with Modbus outputs for your reference.

June 24, 2020
Hello customers, here is our MTL831B range multiplexers with Modbus outputs for your reference.
The classic MTL830B range multiplexers with Modbus outputs avoid the need to isolate each instrument loop. Reduce the cost of installed wiring by up to 50`% by communicating the status of multiple hazardous-area sensors over dual-redundant data highways.

MTL831B multiplexer transmitters are normally sited in the hazardous area. They are connected to sensors in the field and communicate these inputs to the safe area via single-pair data highways. The data highways support communication between the safe and hazardous areas,and also provide power to the transmitters – no additional field power is required.
The MTL831B would typically be mounted close to the field instruments in an enclosure such as the ENC8 or ENC83 (see 'MTL800 Series Enclosures').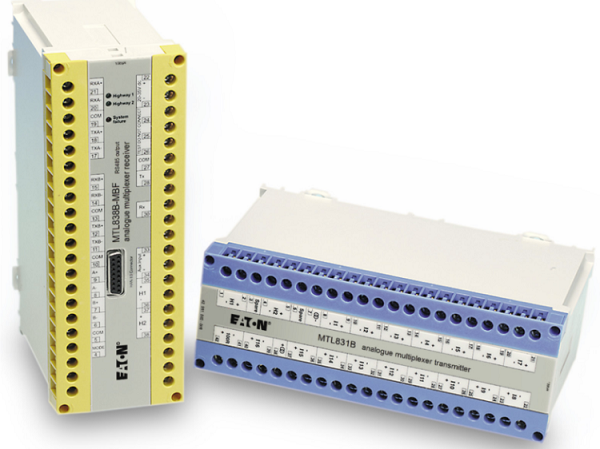 MTL838B-MBF receivers translate the information transmitted from the MTL831B via the data highway. The MTL838B-MBF provides a
Modbus® serial-data output representation of the inputs together with status information.
MTL838B-MBF MODBUS® ANALOGUE RECEIVER
Translates data received from the MTL831B in the hazardous area and makes it available as twin RS485 Modbus® serial data outputs. The MTL838B-MBF is configured by personal computer for thermocouple and RTD type, safety drive, high and low alarm and any other operational parameters.
NM MTL838B-MBF Modbus Receiver Instruction Manual
MTL830 MTL830 is intrinsically safe
MTL830 Common Specs Approvals and common specification
MTL830 Enclosures Enclosures and accessories
PCS83 MTL830 Range Configuration Software
For any question or if you're interested in our MTL831B range multiplexers, you can feel free to contact me here.