MTL7700 range zener barrier MTL7789+ for Switch inputs application.
DIGITAL (ON/OFF) INPUTS
Switches
The normal choice is the MTL7787+/7787P+ with a regulated supply.
The MTL774X modules are recommended for applications where an unregulated supply of up to 30V for relay output modules, or 35V for solid state output modules, is used.
The MTL7789+ offers a dual channel passive barrier for switch inputs where the input current for each channel is <10mA.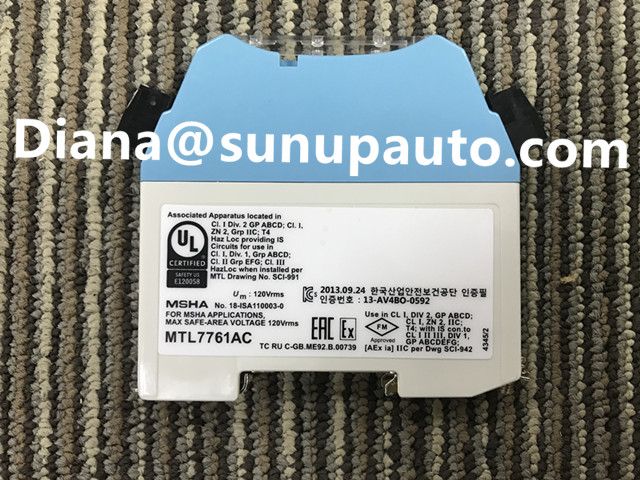 Since its introduction in 1984 the MTL700 range has established itself as the worldwide standard for safety barriers. Known for its quality
and reliability, the MTL700 range is widely used in applications all over the world.
The MTL7700 range follows closely in the footsteps of the MTL700, but as a DIN rail mounting barrier, providing quick and easy installation without the need for special hardware.
Removable terminals are used for ease of installation, maintenance and for providing a loop disconnect by simply unplugging the terminals from the side of the module. Wire entry is also angled to assist wiring within limited space enclosures.
MTL7700 barriers clamp simply and securely onto standard T-section DIN rail, simultaneously making a reliable IS earth connection.
More product models for MTL Safe barrier, barriers, isolators, safe DIN rail barriers, safety barrier
MTL7706+
MTL7707+
MTL7707P+
MTL7710+
MTL7715+
MTL7715P+
MTL7722+
MTL7728+
MTL7728-
MTL7728AC
MTL7728P+
MTL7729P+
MTL7741
MTL7742
MTL7743
MTL7744
MTL7745
MTL7755AC
MTL7756AC
MTL7758-
MTL7758+
MTL7760AC
MTL7761AC
MTL7761PAC
MTL7764+
MTL7764AC
MTL7765AC
MTL7766AC
MTL7766PAC
MTL7767+
MTL7778AC
MTL7779+
MTL7787+
MTL7787-
MTL7787P+
MTL7788+
MTL7788R+
MTL7789+
MTL7796-
MTL7796+
MTL7798
MTL7799
MTL705+
MTL706+
MTL707+
MTL707P+
MTL708+
MTL710+
MTL710AC
MTL710P+
MTL715+
MTL715P+
MTL722+
MTL722P+
MTL728+
MTL728AC
MTL728P+
MTL729P+
MTL751AC
MTL755AC
MTL758+
MTL760AC
MTL761AC
MTL761PAC
MTL764+
MTL764AC
MTL765AC
MTL766AC
MTL766PAC
MTL767+
MTL768+
MTL772AC
MTL778AC
MTL779+
MTL786+
MTL787+
MTL787S+
MTL787SP+
MTL788+
MTL788R+
MTL791
MTL796+
MTL799