Product News
MTL7796+/-, replacement model for MTL7096 barrier. The MTL7000 range MTL7096 barrier has been discontinued for sale.

March 05, 2021
Dear customer, please note the MTL7000 range barrier has been discontinued, the MTL7796+/- is the replacement model for MTL7096 barrier. We have about 80 pieces of MTL7796+/- barrier in stock for sale. If you're interested in MTL7796+/- barrier, please contact me here. Let's discuss!
Our stock MTL7796- barrier stock product picture for your reference.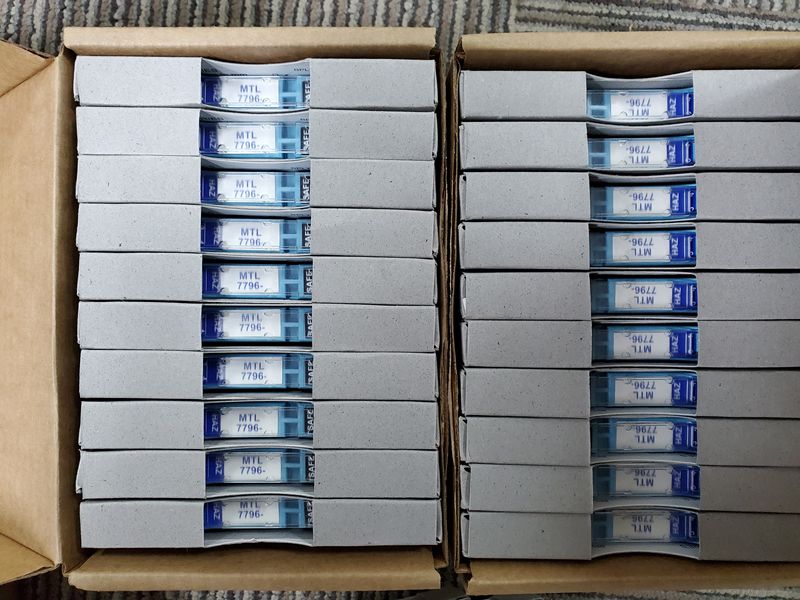 The front side product picture for MTL7796- barrier.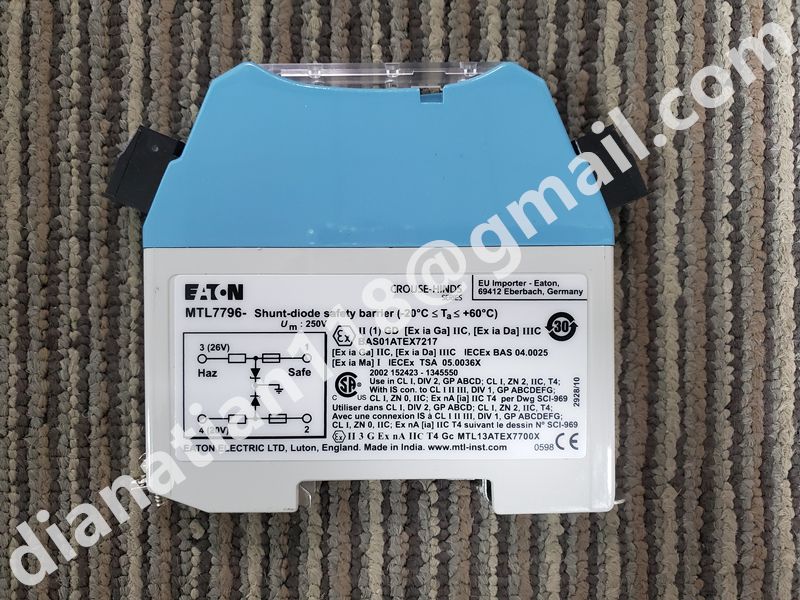 MTL7796+/- barrier product introduction:
MTL7700 range barriers protect devices located in all normally occurring explosive atmospheres, including air/flammable gas mixtures, dusts and fibres. Applications covered include the protection of installations incorporating uncertified devices ('simple apparatus') such as thermocouples, switches and resistive sensors, or separately certified 'energy storing'
(or 'voltage producing') apparatus including ac sensors, transmitters and current-to-pneumatic (I/P) converters.
Vibration probes
The 3-wire transmitters used with vibration monitoring equipment are invariably supplied by a –24V dc power supply – hence the recommended barrier choice is the negatively-polarised MTL7796–.
More product models for MTL MTL7700 Safe barrier, MTL7700 barriers, MTL7700 isolators, MTL7700 safe DIN rail barriers, MTL7700 safety barrier.
MTL7706+
MTL7707+
MTL7707P+
MTL7710+
MTL7715+
MTL7715P+
MTL7722+
MTL7728+
MTL7728-
MTL7728AC
MTL7728P+
MTL7729P+
MTL7741
MTL7742
MTL7743
MTL7744
MTL7745
MTL7755AC
MTL7756AC
MTL7758-
MTL7758+
MTL7760AC
MTL7761AC
MTL7761PAC
MTL7764+
MTL7764AC
MTL7765AC
MTL7766AC
MTL7766PAC
MTL7767+
MTL7778AC
MTL7779+
MTL7787+
MTL7787-
MTL7787P+
MTL7788+
MTL7788R+
MTL7789+
MTL7796-
MTL7796+
MTL7798
MTL7799
MTL705+
MTL706+
MTL707+
MTL707P+
MTL708+
MTL710+
MTL710AC
MTL710P+
MTL715+
MTL715P+
MTL722+
MTL722P+
MTL728+
MTL728AC
MTL728P+
MTL729P+
MTL751AC
MTL755AC
MTL758+
MTL760AC
MTL761AC
MTL761PAC
MTL764+
MTL764AC
MTL765AC
MTL766AC
MTL766PAC
MTL767+
MTL768+
MTL772AC
MTL778AC
MTL779+
MTL786+
MTL787+
MTL787S+
MTL787SP+
MTL788+
MTL788R+
MTL791
MTL796+
MTL799