Product News
MTL7056AC barrier has been discontinued, the replacement model is MTL7756AC barrier. We have MTL7756AC barrier in stock for sale.

March 05, 2021
Our stock MTL7756AC barrier for sale with good price. This is the replacement model for MTL7056AC barrier. Please contact me for more details about MTL7756AC barrier.
MTL7700 range MTL7756AC barrier product picture for your reference.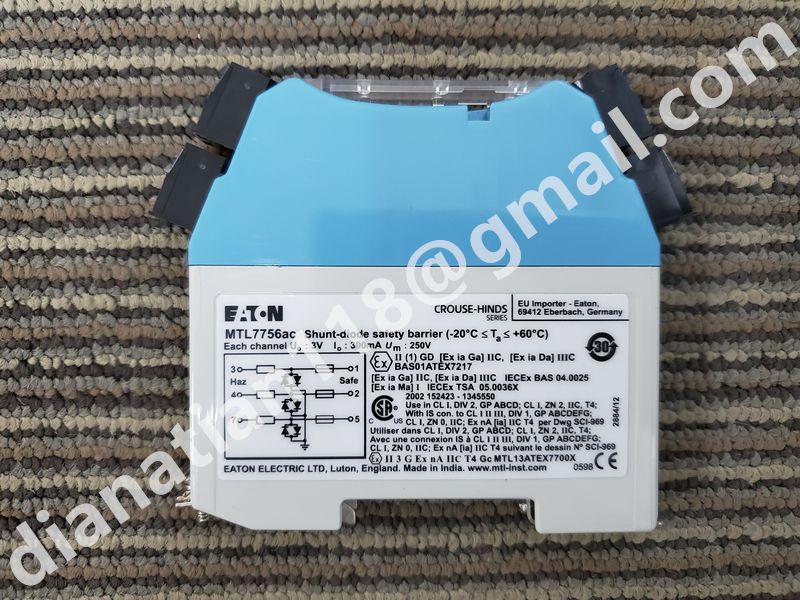 MTL7756AC barrier product introduction:
RTDs
For 3-wire RTDs, a single MTL7755ac barrier is the most economical choice. This is suitable for use with a floating bridge – the two leads
from the bridge arms are protected by the barrier with the third (supply) lead being earthed through the barrier. The barrier has a low end-toend resistance of only 19Ω/channel to minimise span changes and its channels track within 0.15Ω (between –20°C and +60°C) to minimise zero shift with temperature.
If the bridge circuit is already earthed, the third barrier channel provided by an MTL7756ac is needed. For extreme accuracy, 3 channels and an earth-free bridge can be used, a configuration that cancels out the small errors due to barrier leakage. Channels 1 and 2 (those between terminals 1 & 2 and 3 & 4 respectively) track to within 0.15Ω (between –20°C and 60°C)
4-wire constant-current circuits do not need matched barrier resistances and can be protected by two MTL7761ac barriers. If the increase in loop resistance is too great, use two MTL7755ac barriers instead.
More product models for MTL MTL7700 Safe barrier, MTL7700 barriers, MTL7700 isolators, MTL7700 safe DIN rail barriers, MTL7700 safety barrier.
MTL7706+
MTL7707+
MTL7707P+
MTL7710+
MTL7715+
MTL7715P+
MTL7722+
MTL7728+
MTL7728-
MTL7728AC
MTL7728P+
MTL7729P+
MTL7741
MTL7742
MTL7743
MTL7744
MTL7745
MTL7755AC
MTL7756AC
MTL7758-
MTL7758+
MTL7760AC
MTL7761AC
MTL7761PAC
MTL7764+
MTL7764AC
MTL7765AC
MTL7766AC
MTL7766PAC
MTL7767+
MTL7778AC
MTL7779+
MTL7787+
MTL7787-
MTL7787P+
MTL7788+
MTL7788R+
MTL7789+
MTL7796-
MTL7796+
MTL7798
MTL7799
MTL705+
MTL706+
MTL707+
MTL707P+
MTL708+
MTL710+
MTL710AC
MTL710P+
MTL715+
MTL715P+
MTL722+
MTL722P+
MTL728+
MTL728AC
MTL728P+
MTL729P+
MTL751AC
MTL755AC
MTL758+
MTL760AC
MTL761AC
MTL761PAC
MTL764+
MTL764AC
MTL765AC
MTL766AC
MTL766PAC
MTL767+
MTL768+
MTL772AC
MTL778AC
MTL779+
MTL786+
MTL787+
MTL787S+
MTL787SP+
MTL788+
MTL788R+
MTL791
MTL796+
MTL799