Product News
Discount price for MTL7700 range MTL7787+ isolated barrier. Our stock MTL7787+ barrier product picture for your reference here.

July 21, 2021
Currently in stock MTL models at Sunup includes MTL7787+ barriers. There is our stock MTL7787+, MTL7764, MTL7756AC barrier product pictures for you.
MTL7700 range barrier is the replacement product series for MTL7000 range. Currently, the MTL7000 range has all been discontinued now. If you need more information, you can contact me here or by emails.
This months's hot sale models are MTL7756AC, MTL4544, MTL5516C, MTL5525,MTL5531, MTL5546, MTL5511, MTL5582B, MTL5046, MTL7028+, MTL4851, MTL4852, MTL7796-, MTL5011B, MTL5544D, MTL4541S, MTL4541B, MTL4641, MTL5549, MTL5541, MTL5573, MTL5541A, MTL5521, MTL5514, MTL4549, MTL5544, MTL7764, MTL5553, MTL4575, MTL4549, MTL5526...
In stock MTL7787+ barriers product pictures.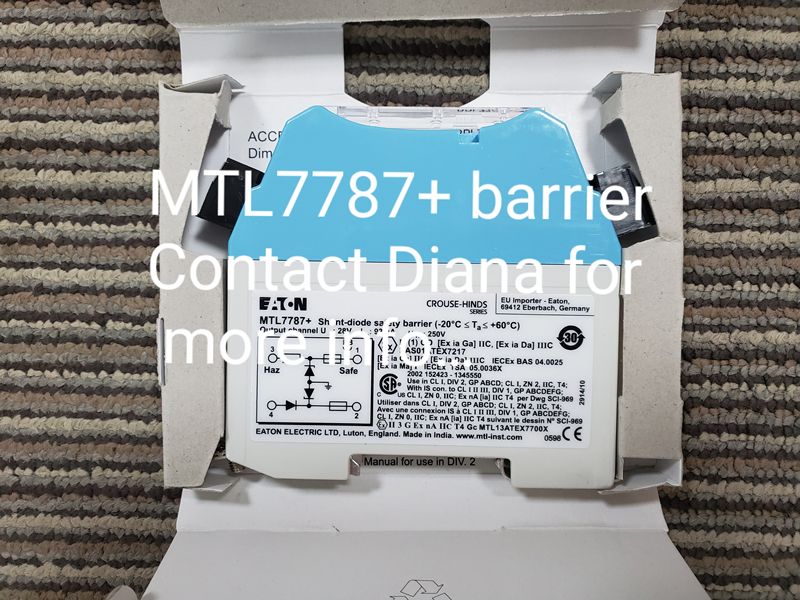 Need more product information for MTL barriers, please contact me here.
My contact details
Telephone:86-027-85880977
Mobile :86-13545206420(Whatapp&Wechat is available)
Fax:86-027-85309780
Skype:Diana@hkxytech.com
E-mail: Diana@sunupauto.com or Dianatian118@gmail.com