Product News
Pepperl fuchs KFD2-CRG2-Ex1.D isolated barrier. We supply brand new and original KFD2-CRG2-Ex1.D in stock.

April 14, 2022
Pepperl fuchs original KFD2-CRG2-Ex1.D isolated barrier products with large quantity in stock for sale.
KFD2-CRG2-Ex1.D barrier product description:
1-channel isolated barrier
24 V DC supply (Power Rail)
Input 2-wire and 3-wire transmitters and 2-wire current sources
Output 0/4 mA ... 20 mA
2 relay contact outputs
Adjustable energized/de-energized delay
Programmable high/low alarm
Linearization function (max 20 points)
Line fault detection (LFD)
Up to SIL 2 acc. to IEC 61508/IEC 61511
Pepperl fuchs Intrinsic Safety Barriers KFD2-CRG2-Ex1.D product picture.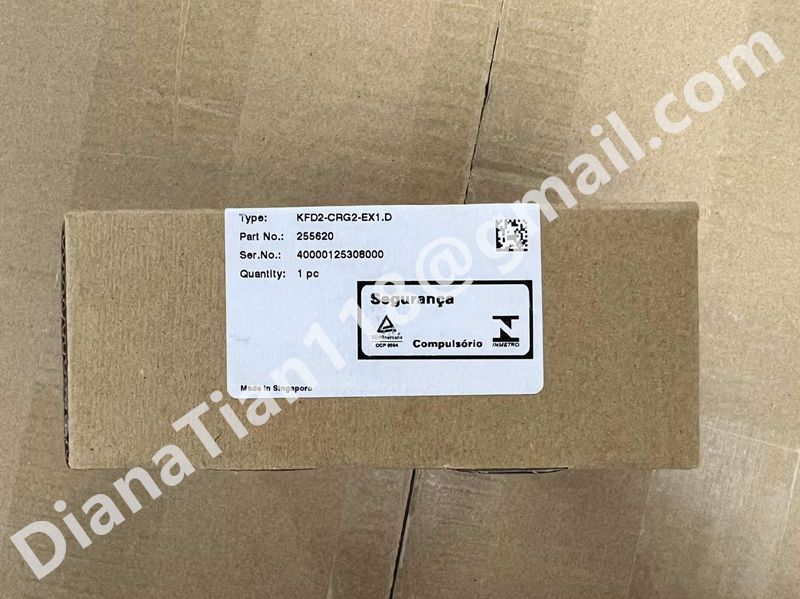 KCD2-SR-Ex1.LB
KCD2-SR-Ex2
KFA6-DU-Ex1.D
KFA6-ER-Ex1.W.LB
KFA6-SOT2-Ex2
KFA6-SR2-Ex1.W
KFA6-SR2-Ex1.W.LB
KFA6-SR2-Ex2.W
KFA6-SR2-Ex2.W.IR
KFD2-DU-Ex1.D
KFD2-ELD-Ex16
KFD2-ER-Ex1.W.LB
KFD2-SH-Ex1
KFD2-SOT3-Ex1.LB
KFD2-SOT3-Ex1.LB.IO
KFD2-SOT3-Ex2
KFD2-SOT3-Ex2.IO
KFD2-SR2-Ex1.W
KFD2-SR2-Ex1.W.LB
KFD2-SR2-Ex2.W
KFD2-SR3-Ex2.2S
KFD2-SRA-Ex4
KFD2-ST3-Ex1.LB
KFD2-ST3-Ex2
KHA6-SH-Ex1
KCD2-SON-Ex1
KCD2-SON-Ex1.R2
KCD2-SON-Ex1.R3
KCD2-SON-Ex2.R2
KCD2-SON-Ex2.R3
KCD2-SOT-Ex1.LB
KCD2-SOT-Ex2
KCD2-SOT-Ex2.SP
KCD2-SR-Ex1.LB.SP
KCD2-SR-Ex2.SP
KCD2-ST-Ex1.LB
KCD2-ST-Ex2
KFA5-SOT2-Ex2
KFA5-SR2-Ex1.W
KFA5-SR2-Ex1.W.LB
KFA5-SR2-Ex2.W
KFA5-SR2-Ex2.W.IR
KFD2-SOT3-Ex2.IO-Y1
KCD2-SON-Ex1.R1
KCD2-SON-Ex1.SP
KCD2-SON-Ex2
KCD2-SON-Ex2.R1
KCD2-SON-Ex2.SP
KCD2-SOT-Ex1.LB.SP
KCD2-ST-Ex1.LB.SP
KCD2-ST-Ex2.SP
KFA4-SR2-Ex2.W
KFA5-DU-Ex1.D
KFA4-SR2-Ex1.W
KFA4-SR2-Ex1.W.LB
KFD2-SOT2-Ex1.LB
KFD2-SOT2-Ex1.LB.IO
KFD2-SOT2-Ex2
KFD2-SOT2-Ex2.IO
KFD2-SOT2-Ex2.IO-Y181008
KFD2-SR2-Ex2.2S
KFD2-ST2-Ex1.LB
KFD2-ST2-Ex2
KFD2-SH-Ex1.T
KFD2-SH-Ex1.T.OP
KFA6-DWB-Ex1.D
KFD2-DWB-Ex1.D
KFD2-SR2-Ex2.W.SM
KFD2-UFC-Ex1.D
KFD2-UFT-Ex2.D
KFU8-UFC-Ex1.D
KFU8-UFT-Ex2.D
KFA5-DWB-Ex1.D
KFD0-SD2-Ex1.10100
KFD0-SD2-Ex1.1180
KFD0-SD2-Ex2.1045
KFD0-SD2-Ex2.1245
KFD2-RCI-Ex1
KFD2-SL2-Ex2
KFD2-SL2-Ex2.B
KFD2-VM-Ex1.35.L
KCD0-SD3-Ex1.1045
KCD0-SD3-Ex1.1245
KCD0-SD3-Ex1.1245.SP
KCD2-SLD-Ex1.1045
KCD2-SLD-Ex1.1065
KCD2-SLD-Ex1.1245
KFD2-SLD-Ex1.13100
KCD0-SD-Ex1.1245
KCD0-SD-Ex1.1245.SP
KCD2-SLD-Ex1.1045
KCD2-SLD-Ex1.1065
KCD2-SLD-Ex1.1245
KFD0-SD2-Ex1.1045
KFD0-SD2-Ex1.1065
KFD2-SL2-Ex1
KFD2-SL2-Ex1.B
KFD2-SL2-Ex1.LK
KFD2-SL2-Ex1.LK.1045
KFD2-SL2-Ex1.LK.1270
KFD2-SL2-Ex1.LK-Y1
KFD0-RO-Ex2
KCD2-STC-Ex1.ES
KFD2-CRG2-Ex1.D
KFD2-HLC-Ex1.D
KFD2-HLC-Ex1.D.2W
KFD2-STC5-Ex1
KFD2-STC5-Ex1.2O
KFD2-STC5-Ex1.2O.H
KFD2-STC5-Ex1.H
KFD2-STC5-Ex2
KFU8-CRG2-Ex1.D
KCD2-STC-Ex1
KFD2-STC4-Ex1.2O.H
KCD2-STC-Ex1-Y1
KCD2-STC-Ex1.2O
KCD2-STC-Ex1.2O.ES
KCD2-STC-Ex1.ES.SP
KFD2-STC3-Ex1
KFD2-STC4-Ex1.2O-Y1
KFD2-STC4-Ex2-Y1
KFD2-STV4-Ex1-2
KFD2-STV4-Ex1.2O-1
KFD2-STV4-Ex2-1
KFD2-STV4-Ex2-2
KCD2-STC-Ex1.2O.DE
KFD2-HLC-Ex1.D.4S
KFD2-STV5-Ex1-1
KCD2-STC-Ex1.SP
KFD2-STC4-Ex1
KFD2-STC4-Ex1-Y1
KFD2-STC4-Ex1.2O
KFD2-STC4-Ex1.ES
KFD2-STC4-Ex1.H
KFD2-STC4-Ex2
KFD2-STV4-Ex1-1
KFD2-STV4-Ex1.2O-2
KFD0-RO-Ex2
KCD2-RR-Ex1
KFD0-CS-Ex1.50P
KFD0-CS-Ex1.51P
KFD0-CS-Ex2.50P
KFD0-CS-Ex2.51P
KFD0-CS-Ex2.52
KFD0-SCS-Ex1.55
KFD2-VR-Ex1.18
KFD2-VR-Ex1.19
KFD2-VR2-Ex1.500M
KFD2-VR2-Ex1.50M
KFD2-VR4-Ex1.26
KFD0-CS-Ex1.52
KFD0-CS-Ex1.54
KFD0-CS-Ex1.54-Y2
KFD0-CS-Ex2.54
KCD2-RR-Ex1-Y1
KCD2-RR-Ex1.SP
KFD0-CS-Ex1.53
KFD0-CS-Ex2.53
KFD2-VR-Ex1.12
KFD2-VR-Ex1.19-Y109129
KFD2-FF-Ex2.RS232