Good quality MTL7700 range MTL7760AC zener barriers made from India, MTL7760AC in stock for sale. Welcome to contact us for more information.
ANALOGUE INPUTS (LOW-LEVEL)
Thermocouples and mV sources
The recommended barrier for thermocouples and mV sources is the MTL7760ac. This 2-channel non-polarised barrier retains the 'earthfree'nature of the signal and, providing the receiver's input 'floats', rejects common-mode ac and dc interference up to at least 7V and is unaffected by earth faults on the primary element.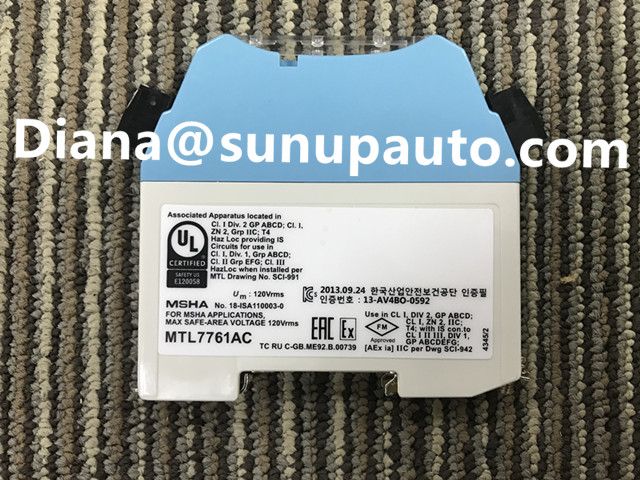 More product modela for MTL Safe barrier, barriers, isolators, safe DIN rail barriers, safety barrier
MTL7706+
MTL7707+
MTL7707P+
MTL7710+
MTL7715+
MTL7715P+
MTL7722+
MTL7728+
MTL7728-
MTL7728AC
MTL7728P+
MTL7729P+
MTL7741
MTL7742
MTL7743
MTL7744
MTL7745
MTL7755AC
MTL7756AC
MTL7758-
MTL7758+
MTL7760AC
MTL7761AC
MTL7761PAC
MTL7764+
MTL7764AC
MTL7765AC
MTL7766AC
MTL7766PAC
MTL7767+
MTL7778AC
MTL7779+
MTL7787+
MTL7787-
MTL7787P+
MTL7788+
MTL7788R+
MTL7789+
MTL7796-
MTL7796+
MTL7798
MTL7799
MTL705+
MTL706+
MTL707+
MTL707P+
MTL708+
MTL710+
MTL710AC
MTL710P+
MTL715+
MTL715P+
MTL722+
MTL722P+
MTL728+
MTL728AC
MTL728P+
MTL729P+
MTL751AC
MTL755AC
MTL758+
MTL760AC
MTL761AC
MTL761PAC
MTL764+
MTL764AC
MTL765AC
MTL766AC
MTL766PAC
MTL767+
MTL768+
MTL772AC
MTL778AC
MTL779+
MTL786+
MTL787+
MTL787S+
MTL787SP+
MTL788+
MTL788R+
MTL791
MTL796+
MTL799