New arrival Pepperl fuchs KCD2-STC-Ex1 1-channel isolated barriers. We have more than 100 pieces of KCD2-STC-Ex1 barrier in stock at Sunup. Want order some KCD2-STC-Ex1?
Pepperl fuchs KCD2-STC-Ex1 barrier product introduction:
KCD2-STC-Ex1
SMART Transmitter Power Supply
1-channel isolated barrier, 24 V DC supply (Power Rail), Input for 2-wire SMART transmitters and current sources, Output for 4 mA ... 20 mA or 1 V ... 5 V, Housing width 12.5 mm, SIL 2 (SC 3) acc. to IEC/EN 61508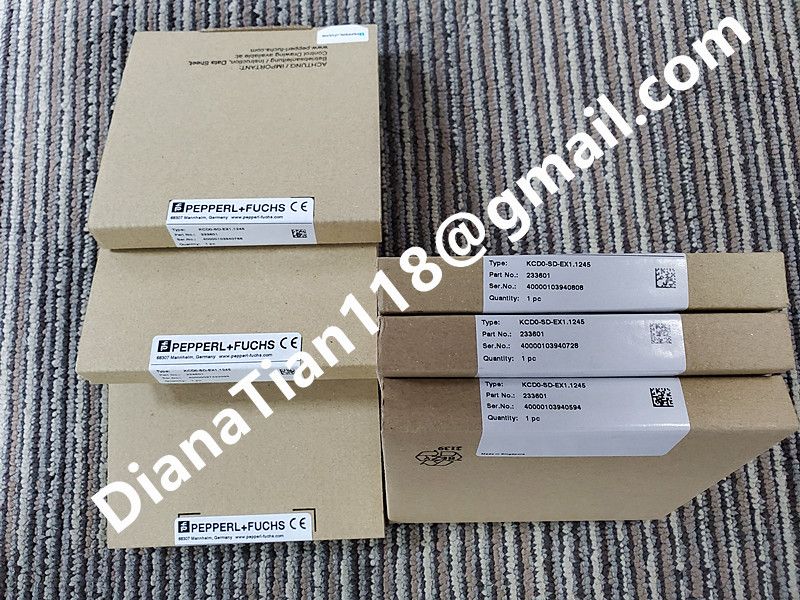 Some hot sale models for Pepperl fuchs barriers.
Pepperl fuchs KCD2-STC-Ex1
Pepperl fuchs KFD2-SR2-EX2.W
Pepperl fuchs KFD2-STC4-1
Pepperl fuchs K-LB-1.6
Pepperl fuchs KFD2-VR2一EX1.50M
Pepperl fuchs KCD2-SCD-EX1
Pepperl fuchs KFD2-SR2-EX1.W.LB
Pepperl fuchs KFD2-SOT2-EX2
Pepperl fuchs KFD2-DWB-1.D
Pepperl fuchs KFDO-RSH-1.4S. PS2
Pepperl fuchs KCD2-STC-1
Pepperl fuchs KFA6-SR2-EX1.W
Pepperl fuchs KFDO-SD2-EX2.1045
Pepperl fuchs KCD2-SOT-EX2
Pepperl fuchs KFD2-STC4-EX1-Y1
Pepperl fuchs KCD2-SCD-1
Pepperl fuchs KFA6-SR2-EX2.W
Pepperl fuchs UPR-03
Pepperl fuchs KCD2-STC-EX1.ES
Pepperl fuchs KFDO-CS-EX2.52
Pepperl fuchs KFD2-STC4-EX1
Pepperl fuchs KCD2-SR-EX2
Pepperl fuchs KFDO-RSH-1
Pepperl fuchs KFD2-UT2-EX2-1
Pepperl fuchs KFD2-ST2-EX1.LB
Pepperl fuchs KFD2-STC4-EX1.20
Pepperl fuchs KFD2-SR2-EX2.2S
Pepperl fuchs K一ADP-USB
Pepperl fuchs KFDO-CS-Ex1.51P
Pepperl fuchs KFD2-STC4-2
Pepperl fuchs KCD2-STC-EX1.20
Pepperl fuchs KFD2-ST2-EX2
Pepperl fuchs KFU8-DWB-1.D
Pepperl fuchs KFD2-BR-1. PA. 1500
Pepperl fuchs KFD2-SCD2-2.LK
Pepperl fuchs KCD2-STC-1.20
Pepperl fuchs KFD2-CR4-1.20
Pepperl fuchs KFU8-GUT-Ex1.D
Pepperl fuchs KFU8-UFC-1. D
Pepperl fuchs KFDO-CS-1.51P
Pepperl fuchs KFD2-STC4-1.20
Pepperl fuchs K-CJC-BU
Pepperl fuchs KFD2-GUT-Ex1.D
Pepperl fuchs KFDO-CS-EX1.54
Pepperl fuchs KCD2-UT2-1
Pepperl fuchs KCD2-UT2-EX1
Pepperl fuchs KC-CJC-1BU
Pepperl fuchs KFA6-S0T2-EX2
Pepperl fuchs KCD2-SR-1.LB
Pepperl fuchs KFD2-PT2-EX1
Pepperl fuchs KFD2-UT2-EX2
Pepperl fuchs KFD2-DWB-EX1.D
Pepperl fuchs KFDO-CC-EX1
Pepperl fuchs M-LB-2.275TT.D
Pepperl fuchs HIC2025
Pepperl fuchs KFD2-UT2-EX1
Pepperl fuchs KFA6-DWB-EX1.D
Pepperl fuchs KFDO-CC-1
Pepperl fuchs FS-LB-I
Pepperl fuchs HIC2031
Pepperl fuchs KFD2-STC4-EX2
Pepperl fuchs KFD2-CRG2-Ex1.D
Pepperl fuchs KFDO-HMS-16
Pepperl fuchs FN-LBF-D1.32
Pepperl fuchs HID2030
Pepperl fuchs KFD2-CD-EX1.32
Pepperl fuchs KFU8-UFC-Ex1.D
Pepperl fuchs KFD2-HMM-16
Pepperl fuchs UPR-03-s
Pepperl fuchs HID2022
Pepperl fuchs KFD2-EB2.R4A.B
Pepperl fuchs KFD2-UFC-1.D
Pepperl fuchs KFD2-UT2-1
Pepperl fuchs M-LB-2.30.T3.D
Pepperl fuchs HID2081
Pepperl fuchs KFDO-SD2-EX1.1045
Pepperl fuchs KFD2-UFC-EX1. D
Pepperl fuchs KFD2-WAC2-EX1. D
Pepperl fuchs KFDO-RSH-1-Y2
Pepperl fuchs Z728
Pepperl fuchs KCDO-SD-EX1.1245
Pepperl fuchs KFU8-DW-1.D
Pepperl fuchs KFD2-SR2-2.W.SM
Pepperl fuchs KFD2-STV4-EX1-1
Pepperl fuchs Z787
Pepperl fuchs KFD2-VR4-EX1.26
Pepperl fuchs KFU8-UFT一EX2.D
Pepperl fuchs KFU8-CRG2-1.D
Pepperl fuchs KFA6-ER-1.5
Pepperl fuchs Z964
Pepperl fuchs KCD2-RR-EX1
Pepperl fuchs KFD2-UFT-EX2.D
Pepperl fuchs KFD2-S0T2-EX1.LB
Pepperl fuchs KFD2-STC5-EX1.20 Z715
Pepperl fuchs KFD2-SCD-EX1.LK
Pepperl fuchs K-LB-1.30
Pepperl fuchs KFDO-SD2-EX2.1245
Pepperl fuchs KFDO-CS-1.50
Pepperl fuchs Z787
Pepperl fuchs KFD2-SCD2-Ex2.LK
Pepperl fuchs K-LB-1.30G
Pepperl fuchs KFD2-VR-EX1.18
Pepperl fuchs KFD2-PT2-EX1-5 Z788
Pepperl fuchs KFD2-SCD2-EX1.LK
Pepperl fuchs K-LB-2.30
Pepperl fuchs KFD2-SH-EX1
Pepperl fuchs KFD2-SRA-EX4
Pepperl fuchs Z787.H
Pepperl fuchs KCD2-SR-EX1.LB
Pepperl fuchs K-LB-2.30G
Pepperl fuchs KFDO-CS-EX2.51P
Pepperl fuchs KFDO-SCS-EX1.55
Pepperl fuchs Z960
Pepperl fuchs KCD2-SOT-EX1. LB
Pepperl fuchs K-LB-2.6
Pepperl fuchs KFD2-SL2-EX2.B
Pepperl fuchs KFDO-SD2-EX1.10100
Pepperl fuchs Z967
Pepperl fuchs KFD2-SR2-EX1.W
Pepperl fuchs K-LB-2.6G
Pepperl fuchs KFD2-SH-EX1.T. OP
Pepperl fuchs KFDO-SD2-EX1.1180
Pepperl fuchs Z715