This quickstart guide is written for an MTL830 system based on an MTL831B temperature input multiplexer transmitter with an MTL838B-MBF multiplexer receiver.
For systems based on the MTL832 or MTL832EXE – 4-20mA multiplexer transmitters– this guide can still be used by also referring to INM883 for any differences between
the MTL832 and the MTL831B.
Before actual installation, it is recommended that new users initially set up a simple
system on the bench to become familiar with the MTL830 system. The minimum
hardware required for a test system is as follows:
MTL831B Multiplexer transmitter
MTL838B-MBF Multiplexer receiver
MTL3052 Isolator (for hazardous area installations only).
In order to run a test the following equipment will be required:
A PC loaded with PCS83 software
Power supply 20 - 35V @ 500mA,
together with suitable cabling for the following requirements:
Data highway connections (see INS831B / INS838B)
Power supply connections
PCS83 serial link cable (see page 72 for connections).
The user will also need the following documentation for wiring information:
INS831B MTL831B instruction sheet
INS838B MTL838B-MBF instruction sheet.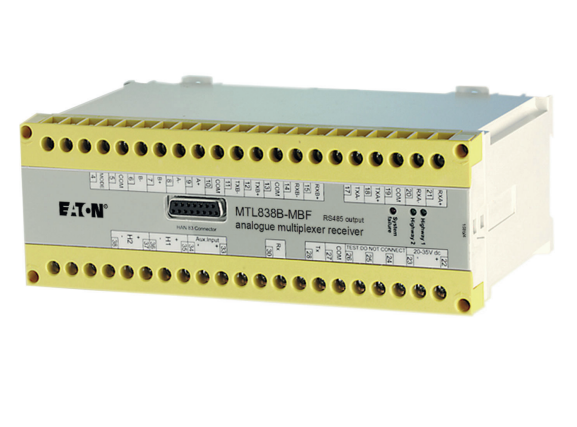 MTL838B-MBF
Need more production information for MTL838B-MBF, please contact me here.
My contact details
Telephone:86-027-85880977
Mobile :86-13545206420(Whatapp&Wechat is available)
Fax:86-027-85309780
Skype:Diana@hkxytech.com
E-mail: Diana@hkxytech.com or Dianatian118@gmail.com